Problem Paws Dog Training and Behaviour are proud to join forces with Bow Wow Grooming to offer Puppy and Dog Training classes. This professional service will assist you to gain more control over your dog and help you understand your four legged friend better.
All classes are kept to a maximum of six ensuring special attention is given to you and your dogs individual needs. This course covers all basic training needs including sit, stay, wait, lead walking and more.
Information on nutrition, preventive health care, and basic grooming care will also be discussed.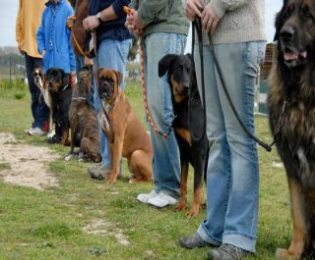 Classes are professionally run by Joanne Byrne (Veterinary Nurse & Canine Behaviourist) and Orla Brennan (Veterinary Nurse and Canine Beautician).
Details
Location: Bow Wow Dog Grooming Centre, Emlagh House, Louth Village
Cost: 70 euro. All classes are two weeks apart, to give you plenty of time to complete homework.
Please contact us for times and bookings.
Course Content
Week 1
Information on nutrition, what you feed your dog has an affect on your dog's behaviour.
Sit; get your dog to sit until you tell him to get up.
Stay: get your dog to stay as you walk away.
Wait: get your dog to wait on his food at meal times
Week 2
Information on preventative health care.
Wait at door: get your dog to wait at the door as you go first.
Stay out of sight: get your dog to stay when you are out of sight.
Lead walking: get your dog to walk on slack lead.
Week 3
Information on basic grooming.
Recall: get your dog to come back when called.
Lead walking: with distractions
Certificate and momentum of occasion to be given on completion of course.
Progression exercises will be given in each class, to be completed for next session.
All classes will be of 90 minute duration
All training is reward and treat based
For best results, please make sure dogs are hungry before class
Strictly no choke chains allowed in classes
One handler per dog
Please bring one of your dog's toys
(Refreshments will be available on course)
Please contact us for times and bookings.